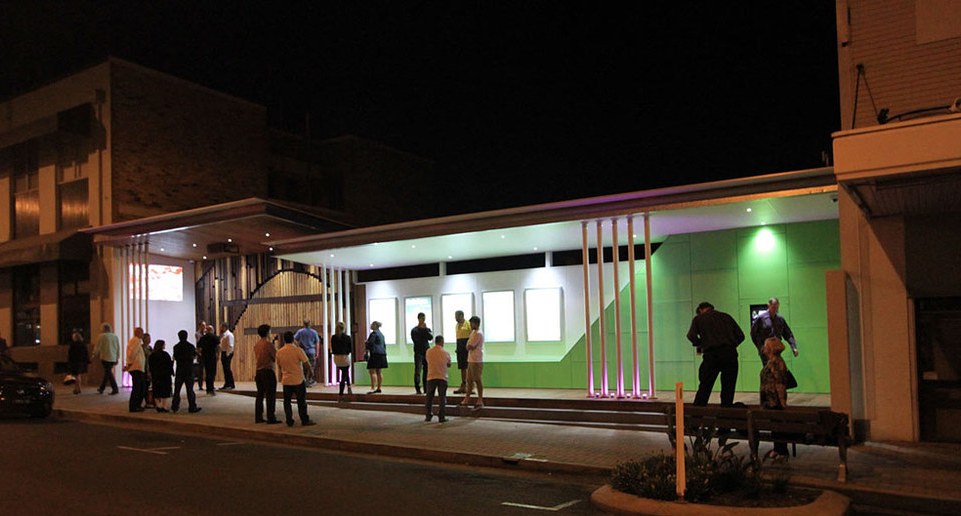 The Hub on Kent is part of the Fraser Coast Regional Council's 'Imagine This City' programme.
The project features recycled timber from old wharf buildings in Maryborough, as well as interactive multimedia presentations. Construction was completed at the beginning of September and the Hub officially opened in mid-September.
The site was previously just a burned down building, used only as a carpark. The deck is suspended at street level over the rear carpark, in order to provide a heritage experience and information hub for locals and tourists. The main timber feature wall is constructed from recycled timber, sourced from the recently demolished maritime wharf sheds along Kent St. We have created a historical "son et lumiere" experience with screening of old movies that showcase the history of Maryborough. Light panels will also have posters about the historical narrative of Maryborough. The other end, a "green wall", has a LCD panel display of what is happening in town, as well as a business directory and free wi-fi spot.
At one end, the past of Maryborough is represented, and at the other, we present the current and future direction of the town.
The Hub will function as a rest space with a variety of seating, in addition to the rear bench. Buskers are intended to have a space here to perform permanently. The project has also been a catalyst for the opening of a new restaurant next door, which will be the first restaurant to open back in Maryborough since the first flood three years ago.
This project was completed whilst operating as a branch office of CORE Architecture. More work by CORE Architecture can be seen here www.corearch.com.au